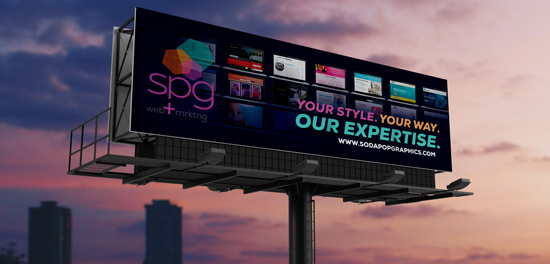 SPG Web + Marketing LLC is a full-service marketing agency. We offer all services related to online and print marketing under one roof: design, hosting, coding, SEO, copywriting, printing, and social media management. Our only reason for existing is to help build solid brands and achieve a memorable and lucrative presence for our clients. We have a diverse team with expertise in all areas of marketing.
SPG gives the same attention to every project – big or small. We bring your vision to life by providing high quality, 100% custom-made designs for your business.
Our goal is to establish a relationship with our clients that fosters an open line of communication and future growth of your company. Every decision we make is kept with our clients in mind. SPG's promise to its clients is to deliver a creative, custom-designed quality product that will be recognizable as your unique brand.
SPG analyzes your industry to gain a better understanding of your products or services. We study potential client behaviors to gain insight on what is expected from your company, then we present a viable solution within company's budget and expectations.
Many professional web design companies exist for the sole purpose of creating websites. While SPG passionately develops some of the most visually appealing websites on the internet, our main objective is to provide you with a superior online presence intended to achieve a tactical and competitive edge over your competition.
The SPG team is made up of a uniquely impressive team of individuals – artistic, finely crafted and well-suited to take on any challenge presented.
Welcome to SPG … where we bring all of your branding and marketing design ideas to life!